Road to success for trainee truckies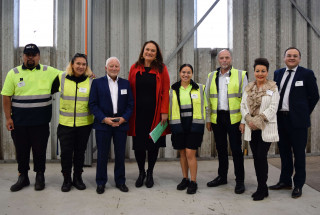 Young MSD job seekers are getting opportunities to learn on the job while trucking operators gain much-needed new drivers through a new road transport industry traineeship – Te ara ki tua Road to Success.
Betty Heremaia Sola, Liana Manu and Shaun Tomai were the first three young people to gain full-time work as trainees, joining trucking firm Carr & Haslam in early 2021.
"Even in these early days of the traineeship we have had three keen and motivated drivers join us", says Chris Carr, of Carr & Haslam. "Road transport is an essential service and it is essential we attract good people to deliver the goods we all need."
Te ara ki tua Road to Success was set up by the Road Transport Forum (RTF), funded by MSD's Industry Partnerships, with support from the Tertiary Education Commission and training provider MITO. RTF is also working with MSD to place people who've lost work through COVID-19 with road transport operators.
People can work and earn money for a year while they're training, and all going well it's expected the trainee will stay on with their employer.
Road Transport Forum CEO Nick Leggett says trucking has an ageing workforce and a shortage of drivers is a problem for the industry.
"We want to bring a new and diverse range of people into the road freight transport industry. We want trainees to be clear on a career path and we believe over time, this training will ensure a higher skilled and safer workforce, leading to safer roads.
"Getting the programme off the ground in the quick timeframe of a year would not have been possible without government assistance and backing," Leggett says.
Go back to We worked proactively to get and keep New Zealanders in the workforce